Saving money on energy costs is easier with MassSave.
The goal of the MassSave® program is to help residents of Massachusetts save money on their energy costs. The program gives homeowners and businesses information, suggestions and incentives to cut their energy usage and be more energy efficient.
Participants can start the process of saving money by having a free energy audit to find out ways their home may waste energy. Moonworks is a participant in the MassSave program and provides free energy audits.
Many times, homeowners are more concerned about their energy usage during the winter months, but summer energy usage can be just as high or even higher than it is in the winter. Having an energy audit during the summer months can reveal new ways to reduce your energy usage and save money.
Saving on Cooling Costs
If your air conditioner seems to be working overtime and your electric bill is skyrocketing, MassSave has solutions for you. An energy audit can pinpoint the exact reason for the increase, which will tell you what you need to do.
–Update your HVAC system. Central air units more than 10 years old are far less efficient than today's systems. Replacing the central air unit is costly, but you will see ongoing savings. MassSave offers rebates on some central air conditioning units to help you save even more.
—A less costly way to save money on your cooling costs is to install a programmable thermostat. By setting your AC at a higher temperature overnight or when you won't be home, you could save up to 15% on the cost of cooling your house. MassSave offers rebates on programmable thermostats to make them even more affordable.
—It's possible that your home isn't properly insulated and is allowing heat to escape through the ceiling or walls. MassSave has an incentive to get back 75% of approved insulation improvements, up to $2,000.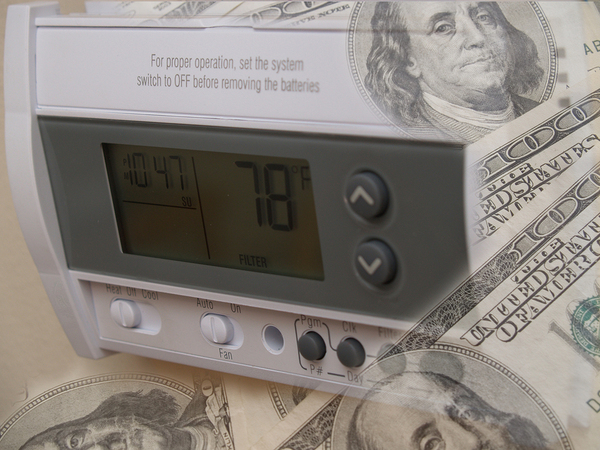 A programmable thermostat will save you money on your summer cooling costs.
Many of these improvements will save you money all year round, not just in summer. Lighting improvements can save you hundreds of dollars over the life of the bulbs, since they use up to 90% less energy and last up to 10 times longer than incandescent bulbs. Another consideration for the summer months is that incandescent bulbs release more heat into the home than more efficient types of lighting (LED, halogen, or compact fluorescent).
MassSave offers rebates on Energy Star rated light fixtures, and the online store sells light bulbs as well as products like TVs and power strips that use less energy. Although these items aren't specific to summer, using less energy on drying your clothes or purifying your air may help your electric bill absorb the cost of cooling your home when it's 90 degrees in July.
Let's face it: any way you can possibly save money on your energy costs will help you feel better about the extra energy it takes to keep your house cool and comfortable during the summer months. Moonworks is a MassSave partner. Call 1-800-975-6666 to schedule your free energy audit and get on the path to saving money today.